[Lesley] I'm a Stephen King fan from way back. Lost sleep over 'Salems Lot and have never forgotten the car and the music in Christine. The Dark Tower series remains one of the best dystopian epics I've ever read. Still, there have been lots of books in between that I just didn't really like. Either they felt re-heated or gratuitously gory or just too weird even for me. The Institute brought me right back into the King fold.
The Stephen King books that I have liked most have at the heart of their creepiness a true darkness that is more frightening than any monster or supernatural phenomenon. I won't say that it is human darkness (but it is human darkness).
The Institute is speculative/science fiction that could be happening right now, somewhere in this country. Kids being used for their "special" abilities, kids being experimented on to enhance those abilities, secret agencies operating beneath the radar of everyday life. Stranger Things (the series) starts with this idea as do many other stories.
We begin with the kidnapping of Luke Ellis and the murder of his parents. He wakes up at "The Institute," a mysterious and sinister place where kids have access to 24/7 meals, and cigarettes but they need "tokens" to buy junk food or alcohol. The other kids tell Luke about how to get tokens (don't put up a fight), what experiments to expect, and which of the staff are the most dangerous. If only these things were kids exaggerating to frighten the new one but, of course, it is even worse than he could have believed.
Why is this happening? Where do the kids go when they disappear from the Front Half? The kids can't give much thought to these questions in between extreme and violent tests, drugs, and emotional abuse. No one has ever escaped from The Institute but Luke isn't just anyone. Mrs. Sigsby and the staff are only looking for powers they can use; they don't see Luke's exceptional intelligence or his strength. There is much hidden behind The Institute's mission and their reach is wide.
Suspense! Evil! Danger! And reality ever worse than whatever we could imagine. Gotta love Stephen King.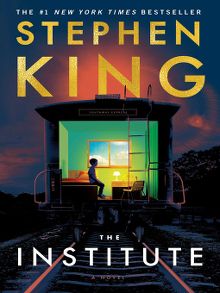 The Institute can be found on Libby/Overdrive.
Click here for books by Stephen King in the library's collections.